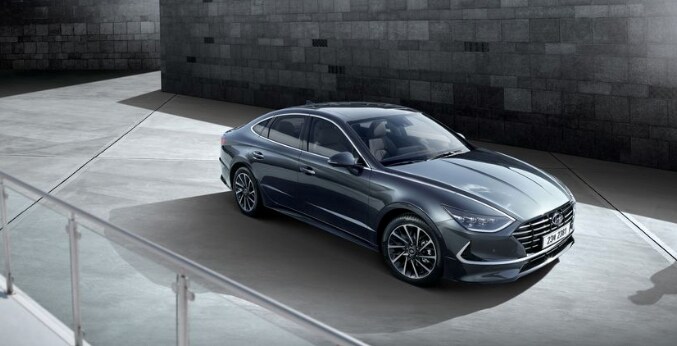 In 2019 Hyundai told you to meet its best Sonata ever. Well, move over 2019, because the 2020 Hyundai Sonata sedan is coming to Ed Voyles Hyundai in Smyrna and has taken styles and dynamic driving to a whole new level. Hyundai's classic sedan gets a new look, with all the practicality of a sedan combined the sporty feel of a coupe. Stylish, larger, and designed with a state-of-the-art exciting interior, the 2020 Hyundai Sonata is the practical sedan for you and the entire family. Perfect for getting the kids to games around Cobb County, or simply for your daily commute down I-75 from Marietta to Atlanta, this isn't the conservative Sonata you remember. Find out more at Ed Voyles today!
Stronger and Safer: Meet the New Hyundai Sonata
Early reports on the new Hyundai Sonata are overwhelmingly positive when it comes to safety. Crafted with tensile steel, the new sedan is tougher than before and designed to circumvent deforming or caving in the cabin in case of an accident. Its new structure is also crafted to absorb accidents and crashes more readily, protecting those inside and out.
High Performance Drivetrain for a Fun, Dynamic Ride
The all-new 2020 Hyundai Sonata has been bulked up, not just in high-strength steel, but size as well. Both the wheelbase and length of the car has expanded by nearly two inches, enabling for a safer, but more precise drive. Lower and longer, the Sonata provides a better center of gravity closer to the ground, allowing for a stylish but dynamic drive.
An Interior So Stylish You'll Feel Like You're Flying
The updated cabin on the 2020 Hyundai Sonata is more stylish and sleeker than its predecessors. The designers must have taken a few flights when conceptualizing the Sonata's cockpit, because there is an aviation feel to it. A Layered panel combines the controls and gauges you need with an easy-to-use and large infotainment touchscreen that puts all your music, maps, and driving info right at your fingertips. Fly down I-75 in grace and style with the all-new Hyundai Sonata.
Find out About the All-New Hyundai Sonata at Ed Voyles Hyundai in Smyrna, GA.
The 2020 Hyundai Sonata is coming to the Metro Atlanta area sooner than you can imagine. If you're in Marietta, Kennesaw, or Sandy Springs, come on by our Ed Voyles Hyundai Smyrna dealership and find out why the 2020 Hyundai Sonata is the new sedan for you and the entire family. Whether you are commuting around the perimeter, or getting the kids to and from school, the all-new Sonata is stronger, safer, and more stylish than ever before. Visit our Smyrna location today to find out more about the 2020 Sonata.