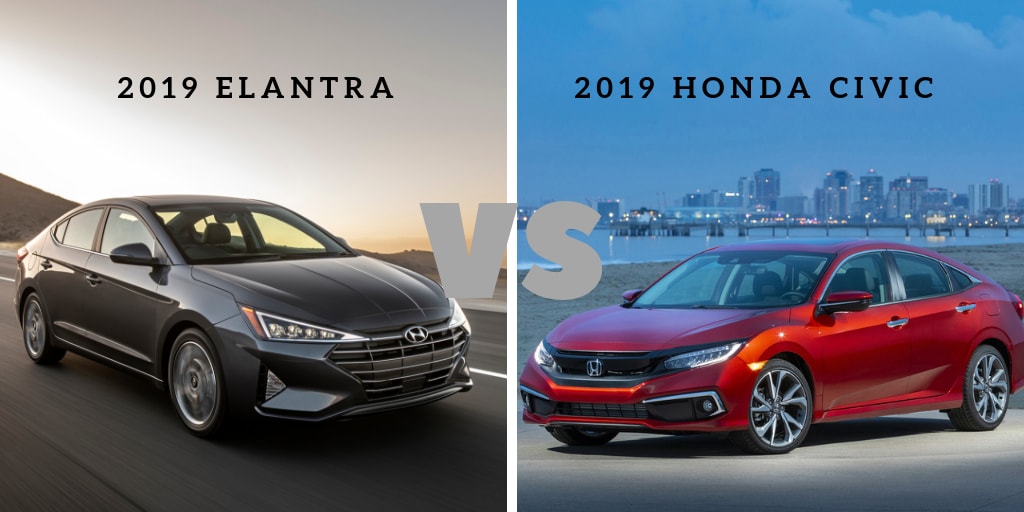 The compact car segment is more competitive than ever, and if you're in the market for a new compact sedan, you've undoubtedly considered both the 2019 Hyundai Elantra and the Honda Civic. As two perennial leaders in the segment, both vehicles offer drivers access to a range of features, complimentary styling, and cutting edge technology.
However, the new 2019 Hyundai Elantra offers you the most bang for your buck. Let's take a closer look at the head-to-head comparison between the 2019 Hyundai Elantra against the 2019 Honda Civic. If you have questions, don't hesitate to reach out to our team at Ed Voyles Hyundai!

The Elantra's Lasting Fuel Economy
If you're considering a new compact sedan, fuel economy is an important attribute, which is one of the many areas the Elantra outshines the Civic. The Elantra's standard 2.0L four cylinder engine combined with a 6-speed manual transmission puts out an impressive 26/36 MPG (City/Highway), putting Hyundai's sedan at the top of its class. The Honda Civic also comes with a standard 2.0L four cylinder engine and 6 speed manual transmission but lumbers slightly behind at 25/36 MPG (City/Highway). For even more impressive fuel economy, make sure to check out the Hyundai Elantra Eco coming in at 32/40 MPG (City/Highway).
A More Spacious Sedan inside the Elantra
Just because you're looking at a compact sedan doesn't mean you should forget about a back seat! In fact, the Hyundai Elantra offers a relatively expansive rear seat with more space in the areas that count the most.
For example, your rear passengers will enjoy substantially more hip, head, and shoulder room than what is offered in the Civic. The difference in space is primarily due to the sloping roofline of the Civic that dramatically reduces rear passenger space and headroom.
Entertainment and Technology - 2019 Hyundai Elantra vs 2019 Honda Civic
While the Hyundai Elantra is classified as a compact sedan, there is nothing compact about its value and innovative technology. For example, you'll enjoy features you can only find on the Elantra like the hands-free smart release that automatically opens the trunk whenever it detects the proximity key within three feet behind it for more than three seconds. This innovative feature makes loading and unloading Hyundai's compact sedan easier than ever. However, you won't find this convenience feature or anything similar offered on the Civic.

The Elantra also offers an expansive 8-inch multimedia navigation system that can support apps like HomeLink, Hyundai Blue Link, and a complimentary SiriusXM on its many more trim levels. If you aren't entertained yet, you will surely be after discovering the Elantra's superior six-speaker sound system, while the Civic only offers four speakers as a standard.
Contact Ed Voyles Hyundai for the New 2019 Hyundai Elantra
Why pay more for less? The 2019 Hyundai Elantra offers you more value and a better peace of mind. While the Honda warranty will only cover you for 5 years or 60,000 miles, the Hyundai Elantra warranty goes above and beyond by offering an extensive 10 years or 100,000 miles. In the end, you have nothing to lose and everything to gain when you drive away in a 2019 Hyundai Elantra.




Ready to get up close and personal with the new 2019 Hyundai Elantra? Ed Voyles Hyundai in Smyrna can help! We're home to one of the largest inventories of new Elantras in the Acworth, Atlanta, Alpharetta, Kennesaw, Douglasville, Marietta, Smyrna, Woodstock, Dallas, and Roswell, Georgia area. Stop by or give us a call at 678-509-7959 today to schedule a test drive.